As ya'll know, the
Showdowns & Shootouts
adventure writing contest took a LOT longer than anyone ever thought it would. You know, we had the usual delays... work, family, hospitalizations and hurricanes. But even still, we had no idea we'd lollygag so long on this contest.

Still, in spite of the long delay, it's actually been a big success in that it did exactly what we wanted it to do: We got some great ideas for Gutshot adventures. We collected about 50 submissions that are all fantastic. Honestly, there isn't a dud in the bunch. We had no problems at all selecting 12 adventures to develop into complete, printable material. You can find them here on the
Winners page at our Website
.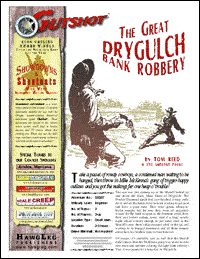 We finally printed the last adventure and selected the winner last summer. It was Tom Reed who won by penning
The Great Drygulch Bank Robbery!
It was a classic blend of cowhands, outlaws and a sheriff desperate to keep the peace. All in all, just the sort of thing that -- if it had been a classic Western movie -- might have starred
Gary Cooper
as the man with the tin badge. As the Judge's Prize Winner, Tom won a whole slew of goodies:
Whitewash City 6 x 4 feet felt game mat (approx. $40 value)
$60 Gift Certificate to Scale Creep Miniatures
25mm painted stagecoach with team from Knuckleduster ($80 value)
Arnica, Montana resin Main Street Starter (5 buildings: $40 value)
Whitewash City Starter CD ($15 value)
One item from the Gutshot General Store (approx. $20 value)
One copy of the Showdowns & Shootouts collected book (approx. $20 value)
Gutshot miniature: ($5 value)
With the adventure finished, the last thing we had to do to finally put a bow on this thing was to have the readers vote on which was their favorite adventure. But there was one thing that had been holding us back. The survey software. I know this sounds minor, but we just couldn't find the right software. As sad as it sounds, we just didn't find the right software to collect the info we wanted. Okay, that's not true. For $25 a month (minimum) we could do it. But... we're cheap. Um, scratch that... we're frugal. We just didn't think it was a good time to dump a bunch of money into something that, in the long run, isn't going to be used that often.
So, I finally sat down and wrote it myself. I finally got it finished (well, except for one or two cosmetic things I may or may not address at this time). And I need to write a reporting module to tabulate the results. But, again, that's a back-end piece that I can do later, or just tabulate the results by hand.
So, at long last, the Voting is open to the public. The voting will open Thursday on March 1, 2012. At that time, I will add a link to this blog, and to the regularly scheduled update on Thursday.
You can cast your vote until midnight March 31, 2012. Oh, and did I mention that there is a prize being given to everyone who votes in this?
We'll talk about that on Thursday.